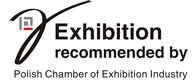 WINNERS OF THE MTP GOLD MEDAL COMPETITION
On 28 April 2015 the meeting of the Competition Jury of the Gold Medal Competition of Poznań International Fair was held at POLIGRAFIA 2015 fair, chaired by Jerzy Hoppe, PhD Eng, from the Central Research and Development Centre of the Printing Industry in Warsaw.
It is one of the most recognisable awards on the Polish market, granted to top quality innovative products. Almost 500 products compete for the Gold Medal of Poznań International Fair every year. The medallists eagerly promote products, treating the distinction as a reliable recommendation important in the process of building brand and trust to the quality of the products offered.
LIST OF PRODUCTS AWARDED WITH THE MTP GOLD MEDAL
POLIGRAFIA 2015
HORIZON RD- 4055 rotary die cutting system
HORIZON INTERNATIONAL, INC., Japan
Applicant: DERYA Sp. z o.o., Tychy
Hall 6A stand no 8
Flenex flexographic plate
FUJIFILM EUROPE GmbH (Ltd.) Branch in Poland
Warsaw
Hall 6A stand no 10
INFOSYSTEMS S.A. Warsaw
Hall 6A stand no 8
IWARE Sp. z o.o., Wrocław
Hall 6A stand no 21
OPUS Sp. z o.o., Gliwice
Hall 6A stand no 31
Automatic thermal line for single- or double-sided paper laminating
EUROPA PB
Paper Laminating Plant, Gdynia
Hall 6A stand no 41