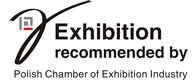 They have reached for gold!
The list of products awarded with the Gold Medal of MTP at 2013 POLIGRAFIA Fair
The Gold Medal of MTP is one of the most recognizable awards on the Polish market. It is granted to innovative, high-quality products, which meet a wide set of criteria that are in accordance with highest-class technologies, after a thorough evaluation done by experts. The Competition Court is composed of outstanding specialists representing various backgrounds of the printing industry. On the 24th of April the Competition Court, presided by Jerzy Hoppe, selected 7 laureates.
The list of products awarded with the Gold Medal of MTP at 2013 POLIGRAFIA Fair:
Kodak Flexcel NX Flexographic Plate
Eastman Kodak Company, USA
Applicant: Kodak Poland Ltd. Warsaw
Kodak Sonora XP process-free plate
Eastman Kodak Company, USA
Applicant: Kodak Poland Ltd. Warsaw
EUROPA System
Paper Foiling Company, Gdynia
ZFP Zakład Foliowania Papieru, Gdynia
GL SPECTRIS 1.0 touch – GI OPTIC spectrometer mini
JUST Normlicht GmbH Germany
Applicant: ART Artistic Company Ltd. Gdańsk
VarioPrint 110/120/135
Oce-Technologies B.V., Holland
Applicant: CANON Poland Ltd. Warsaw
APOGEE Suite 8.0 prepress workflow software package
Agfa Graphics NV
Applicant: Agfa Graphics NV (Joint-Stock Company) – Branch in Poland, Warsaw
Internet System of online printing ordering PUZZLE FLOW WebToPrint
INFOSYSTMS Joint-Stock Company, Warsaw