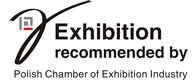 Register your new offers!
LET YOUR NOVELTIES BE VISIBLE AT THE FAIR
Promote your new products, technologies and services that you will launch or that you will present for the first time in Poznań.
Products marked as "new" guarantee high recognition among attendees. Moreover, information about new offers is published in guides for visitors, in press materials and online on the POLIGRAFIA website.
To register, simply complete the new product form including information about the company and the presented product (up to 300 characters). Each product should be registered on a separate form.
The submission deadline is: 12.05.2015.New products registered after the deadline will not appear in printed materials. They will be only presented on the website.
Professional visitors will certainly appreciate products marked with the "new" sign!