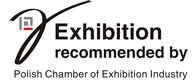 Quality, quality and again quality
it is the motivation, purpose and strategy for the upcoming edition of the POLIGRAFIA Fair which is to be free from random visitors and thematic divergence, and will focus exclusively on the printing industry. We begin a new era of printing based on innovative technologies, unlimited possibilities and prospects of development in areas that until now could seem unattainable.
Most changes heralding a new era in the Poznan POLIGRAFIA Fair are definitely related to the issue of fair visitors. Our telemarketing campaign aimed at verifying existing data and supplementing records in the databases allowed to create a new, extremely valuable package of information about the visitors, their preferences and expectations for POLIGRAFIA Fair 2015 – 72% of visitors declare that they come to the fair in order to see new products presented by exhibitors, and as many as 34% of them are going to make investments in their machinery – says Ilona Rosiak, deputy Project Director. – 63% of those visiting the fair are looking for inspiration and direction for the development of their business, which is why they all receive from us a free invitation to the Fair along with a parking ticket valid at the car park located right next to the exhibition hall. That's how we reward professionals who will be our guests – she emphasises.