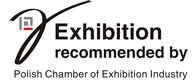 Non-distracting accompanying events
he fair is primarily a business meeting and this priority will be in no way compromised. This does not mean, however, that the four fair days will be deprived of accompanying events.
But note! None of them will be a competition related to exhibitors' displays. Quite the contrary. – Poligraficzna Arena to be built in the exhibition hall will be the centre of short conferences, interactive workshops and concise presentations – explains Piotr Kaminski, Project Director. – The central idea is not to distract the visitors and attract them to the stands of exhibitors, and largely for this reason the functioning of the conference rooms and additional outdoor spaces will be limited.