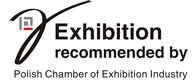 GOLD FOR THE BEST
MTP Gold Medal is one of the most recognized awards on the Polish market....
We are proud to present you the new version of the competition for the Gold Medal of Międzynarodowe Targi Poznańskie, one of the most recognized and prestigious awards in the Polish market.
The main innovation is a much earlier date of choosing the  winners. The list of products awarded with the Gold Medal will be known for several weeks before the fair.
A Gold Medal winner will receive a medalist package - a set of promotional materials to be used in his promotional campaign: Gold Medal, logo, press releases, press advertising template of a MTP gold Medal Winner and video and photos from the awards gala.
Products awarded the Gold Medal will be presented at an exclusive stand located in the center of the fair exposition - Champions' Zone.
Another novelty is a competition Consumers' Choice Gold Medal. Professionals will have an opportunity to vote in the Internet and the Champions' Zone for the best product from among the Gold Medal winners of the given trade fair event. The best products of 2012 will be announced at the end of the year.
Quality guarantee of the awarded products will be a prestigious jury involving experts from the industries represented at the fair.
DEADLINE: APRIL 12 TH, 2013
Contact: Jolanta Kanikowska
tel. + 48 61 869 22 06, e-mail: j.kanikowska@binte.pl